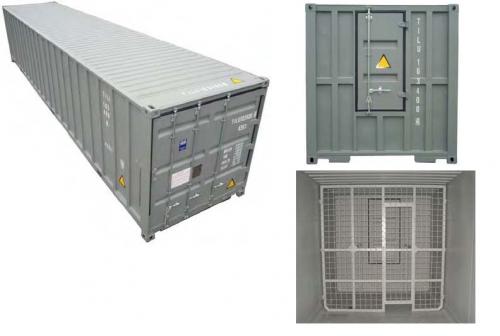 1. Smooth steel floor, side panel and front wall to facilitate loading and discharge of waste.
2. A active charcoal vent fitted on the side to prevent bad odour from emitting.
3. A hatch on the front wall for entering from the front for inspection.
4. The single-leaf door in the rear end comprise three locking bars which equipped with hinge for security; door
seal gasket section beneath is special in form, in order to prevent 300mm height liquid inside the container flowing
outward.
5. Fix a barrier inside the container and space in the front end so that man can go into the container to inspect. The
removable barrier connects to the left and right side wall with bolts, and a small door in the barrier for cleaning the
space of front end.
Specification
ISO Code
42G1
Gross Weight (kg)
33,950
Tare Weight (kg)
4,800
Allowable Stacking Weight (kg)
203,700
Standard
Standard: ISO668, ISO1496-1, ISO3874, ISO1161
Smooth internal wall and steel floor.
A carbon-active vent fitted on the side.
One hatch on the front wall.
One single-leaf door on rear end.
A barrier inside the container.